CHURCH CHAIRS
We live in a hectic time, we are in a constant hurry every day and under the burdens of duty, sometimes each of us desires peace. We want to turn off ourselves at least for a moment and be alone just with our thoughts. Someone finds it in the nature, others in sports, and many of us in the church.
It is God's church that is the place whose silence and atmosphere help to find the feeling of (lost) security again. But here applies too: one man's trash is another man's treasure. So, people's demands on the appearance and equipment of the church vary. The times of ostentation and great adornment in the shrines are rather "worn" and thing of the past. Nowadays minimalism and functionality are getting to the fore. We require nothing spectacular which would be distracting anymore. On the contrary, the interior of the church should create a compact unit and individual pieces of furniture should preserve the airiness of the historic building.
Our subconscious relies on the first impression
The way we feel at some place is influenced, among other things, by the environment itself, and the church or parish is no exception. The overall impression is also improved (or, vice versa, can get worse) by equipment: church chairs and pews, ambons, kneelers, sacrificial tables, crosses, and so on. Although it is true that visitors come to the shrine for the purpose of prayer in the first place, they also want to feel comfortable – and this is contributed to certain extent by church sitting too.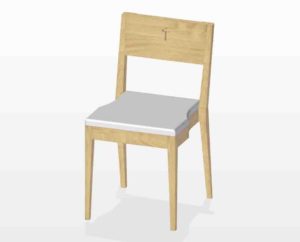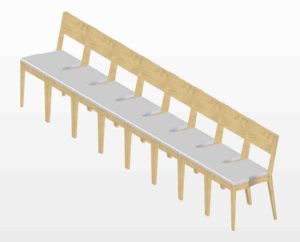 Church chair: Simplicity justifies the purpose
It is the church chairs(or church pews) that belong to interior equipment which is being changed and supplemented most frequently. The church's common visitor is more accustomed to traditional pews, but lately, temples (as well as houses of mourning and ecclesial communities in general) have been increasingly equipped with chairs that give each visitor even more sitting comfort and a sense of personal space.
Church chairs CONFER represent a kind of hybrid between a chair, a padded half-armchair and a classic church pew. At first glance, they captivate by their perfect workmanship, which combines maximum design quality and a sense of detail. An interesting detail is their connectivity – either in a row or combined in a compact "pew".
"Modernity, flexibility and functionality."
More than just a chair
Chair functionality is absolutely incomparable with current market offerings as well as configuration options and choice of accessories for extra charge: storage place for bible or hymnbook, folding kneeler, folding desk, hook for bags and much more. In addition, wooden church chairs are stackable, and the high-quality materials used guarantee a long life, which will be appreciated by those who choose this equipment.
Churchchair Rebekka - 47cm
Churchbench Rebekka - 55cm
Churchbench Rebekka - TOP